When moving abroad, it is important to get to know and understand how the healthcare system of the country we just moved into actually works. 
The Czech Healthcare system is among the best in Central Europe, with most citizens enjoying universal healthcare coverage via their employers. In fact, the country has one of the most accessible systems and ranks 4th in Europe for its number of Operational Hospital Beds: with 6.6 hospital beds per 1,000 citizens, it is 35% above the EU average of 4.9 per 1000 citizens.
Nevertheless, how does it actually work?
Private vs. Public
In the Czech Republic, both EU and Non-EU citizens are required by law to have health insurance. For this reason, during the immigration procedure, people are required to provide proof of actually owning health insurance.
It is possible to have either Private and/or Public Insurance. With Public Insurance, you will be granted similar coverage as Czech Citizens which includes diagnostic and preventative care, hospital care (including rehabilitation and care of chronic illnesses), basic dental care and medicines. 

Private Insurance coverage depends on the company and plan chosen. However, you have to consider that in order to be able to complete your immigration process, your insurance company must be recognized by the Czech National Bank list. If it is not, you will have to buy another local Czech insurance for the full duration of your permit in addition to the private insurance you have obtained. This is a very crucial point when searching for insurance options as you may end up paying for two. 
Do I need a General Practitioner (GP)?
In the Czech Republic, it is necessary to be registered with a general practitioner (GP) to receive care. Many expats are not required to do so in their home country and do not see the need to become a patient in a specific clinic. However, it is a needed step to do upon your arrival since if you will require treatment in the future, you may have a problem finding an available GP to accept you. Even when visiting a specialist such as a dermatologist, neurologist and similar, you will have to show a reference from your GP or pay as a private service. 
In Prague, you may face difficulty finding a general doctor who is well versed in the English language, so it is advised to start looking for a public clinic with which to register, right upon arrival. Please be aware that it may require you to call several places before you will find one that is available. If you know foreigners in Prague, ask them for recommendations on where they care about their health as not all the clinics can be provided with English (or other languages) support. 
One can choose to register via a private or public clinic. Private clinics might be included in a private insurance plan, but can be accessed via public insurance by paying an additional yearly membership fee for the upgraded service level. Public clinics do not require any membership fee, however have limited availability. It is becoming more and more popular that gynecologists take yearly membership subscriptions even if they are considered public medical centers. However, the government is trying to fight the habit and soon it will be forbidden.
What to Expect In a Czech Hospital?
Prague has many hospitals, so you will always find one that is no more than 10-15min. distance from your home.  Motol Hospital is located in Prague 5 and is the biggest hospital and the only one that has a building dedicated to children's care. 
When attending the hospitals you may have a language barrier during admission or registration, as the nurses often do not speak any language but Czech.  However, once you pass that obstacle you will have with high probability an English-speaking doctor, even though the level of English can differ from one doctor to another.
Consider that when attending the hospital during working hours, you may be requested to go back to your GP or other specialists. The hospital does not normally treat cases that are treatable by other open clinics.  
When arriving after working hours at the hospital, you will be required to pay a fee of CZK 90 to be admitted during the registration process. There are special machines dedicated to the payment of this fee close by the reception area.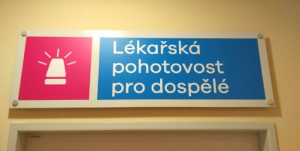 The emergency department is called "Pohotovost" or "Ambulance". 
Insurances and Charges at the Hospitals
Czech Hospitals are quite strict on which types of health insurance they accept. This can lead to two different scenarios when visiting a hospital:
By law, you can be treated immediately if you are insured by a company recognized by the Czech National Bank. You will also be admitted immediately if insured with either the Czech public insurance (VZP) or the European Health Insurance Card (EHIC).
If visiting for an ordinary procedure, we would suggest you visit the Motol University Hospital. This hospital also treats patients who do not have the Czech National Insurance. You will have to, however, visit the Foreigner's Department of the hospital, leave a deposit and then return after treatment to settle the payment.
In life-threatening or trauma cases, you will be taken straight to emergency.
Special Rules of the Czech Healthcare System
Additional facts about the Czech healthcare system that might be useful to know are the following:
If you would like to visit a specialist, you must have a written reference from your general practitioner.

Children in the Czech Republic are under pediatric care until they are 18 years old.

It is mandatory in both private and public schools for enrolled children to be vaccinated.

Most doctors accept visits only during working hours. While the hospital is open 24/7, outside of working hours it will accept patients only if it's really necessary. For non-urgent cases, they will ask the patient to visit their general practitioner in the morning.
Ambulance Services
There are two types of ambulance in the Czech Republic: 
Emergency medical service (Zdravotnická záchranná služba, ZZS)
Transport medical service (Dopravní zdravotnická služba, DZS)
You will call the emergency medical service in the event of a sudden accident or serious acute health problem. The contact line is 155 or 112. The transport is then covered by the public health insurance company. For private insurance, you most probably will need to pay and then ask for the reimbursement of the fee from the insurance later. 
The transport medical service is used for planned journeys for examinations by specialists – in a situation where other types of transport are not suitable for health reasons, for example due to reduced mobility, malaise, infectivity of the disease, post-operative conditions or psychiatric illnesses. 
In order to use a transport medical service, a pre-written request from the general practitioner is required. If it is a journey from home to an examination, the doctor must provide the patient with a transport voucher in advance at the same time as he files a request for the examination by the specialist. When a journey back home is required due to health conditions, a transport voucher will be issued by the doctor who sends the patient home, i.e. the doctor from the ambulance or hospital where the patient was treated. Such transports are covered by the health insurance company.