Since you've already read heaps of articles about Charles Bridge, Petřín Lookout Tower and Dancing House, we've tried to find some other places in Prague that will captivate you with their picturesqueness.
Of course, places like Prague Castle or Old Town Square are the foundation of old Prague and are definitely worth a visit. But if you've already seen the highlights and want to soak up a bit of the local vibe, join us in checking out these few places to take selfies that regular tourists don't have. Plus – all of them are admission free.
Smíchov Riverbank (Smíchovská Náplavka)
The Vltava riversides are nowadays undoubtedly the main scene of young life in Prague's centre. It is a place for a walk, socialising and cultural events. The right riverbank is characterised by its unmistakable view of Prague Castle.
However, much less touristy is the Smíchov Riverbank, which can be reached by ferry or on foot over the unique Railway Bridge. On the Smíchov river side you can visit a gallery with a café and in the summer months an open air cinema. Or just sit and enjoy the views. From Smíchov you can see a completely different angle of Prague, for example a view of Vyšehrad Castle or the Dancing House.

Loreta
Just a 10-minute walk away from Prague Castle lies a Baroque chapel with a unique bell chime that is visited by surprisingly few tourists. Yet it is one of the last surviving Baroque music instruments in Europe with a mechanism that has not been modernised in any way.
When the Loreta is open (from July to September every day from 10:00 to 17:00, in June only from Wednesday to Sunday), the bell chimes play the Baroque song Maria, Maria every hour.
From there you can continue to Strahov and then to Petřín Gardens.
Rosarium
Now that we've mentioned Petřín hill and gardens, you can take a walk through the nearby Rose Garden after enjoying the views from the famous lookout tower. The roses at the top of Petrin hill are planted on an area of about 6 hectares with 7,800 rose specimens, some of which are very rare.
The rose orchard is freely accessible throughout the year. But if you want to see the roses in full bloom, plan your visit for mid-June. This is when you will experience the most romantic scenery.
Star Chateau and Park (Hvězda)
Hvězda Park is located a bit further from the centre, but you can get there by direct tram from Prague Castle. In an English-style park with three avenues lies a summer manor with an interesting layout – a six-pointed star (= hvězda). This Renaissance chateau served as a hunting and resting manor.
Nowadays, exhibitions, classical music concerts and other cultural and social events are held here. But it is also a place where Prague residents go for a run, bicycle rides, a picnic with friends or for walks with children. In autumn, they fly kites in the nearby open field. The locals simply visit this park all year round as there is always something to do.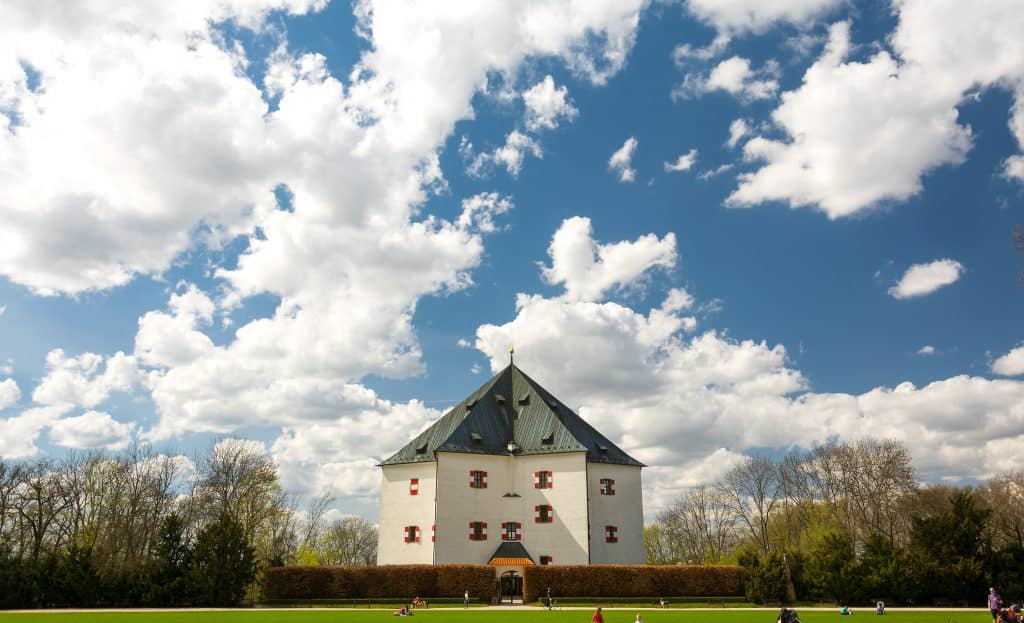 Letná Park
A park much closer to the centre, which is also used by locals, is Letná. Getting there is quite a hike, but the views of the river and the Old Town are worth it. It's a popular destination for runners, but it's also a great place to socialise over drinks and outdoor festivals.
Local youth culture is represented at the outdoor Stalin Cultural Center – where the monument to the former statesman used to be. The monument has been replaced by the famous metronome, which can be seen from afar from many places in Prague. Nevertheless, the place is still called "At Stalin's" and is a pleasant place to meet, relax and have fun. From Wednesday to Sunday there are free live concerts, a summer cinema with films and documentaries, stand up comedy, and electronic music.
Rieger Gardens (Riegrovy Sady)
Riegrovy sady is a place right in the centre of Vinohrady with an unforgettable view of Prague Castle or Petrin Hill. It is a frequent meeting place for students and it is not uncommon to see birthday parties on a picnic blanket with balloons and music.
When there is an important football match, a large number of people gather in the Open Air Pub, which is part of the park. You can watch the football on a screen and enjoy a bite of grilled sausage and a beer.
Of course, there are many more places in Prague, where locals gather and where you won't find that many tourists. Our consultants try to cover these places at every private Prague Orientation Day that is part of our Relocation Support package. Contact us here for more information.