Na internetu najdete spoustu průvodců pražskými restauracemi a bary. Někdy jde o upřímné recenze, jindy jde o placenou reklamu. My jsme se zeptali členů našeho ReloCare týmu, jaké jsou jejich oblíbené podniky v Praze.
Relokace klientů pro nás totiž obnáší i orientační den v centru Prahy. Při něm klienta doprovází přímo jeho relokační agent, takže si může být jistý, že dostane otevřené informace od člověka, co v Praze žije a tráví svůj čas.
Kristýna doporučuje:
L'Osteria
Budova DRN, Národní 135/14, 110 00 Praha 1
Tahle italská restaurace u Národního divadla je asi moje nejoblíbenější místo v centru Prahy. Úplně tu na vás dýchne atmosféra typické italské "osterie". Prostředí je prostě nádherné –⁠ hlavně dvůr! –⁠ a podávají tu největší pizzu, jakou jste kdy měli. Doporučuji přijít ve dvou, protože sami ji nesníte!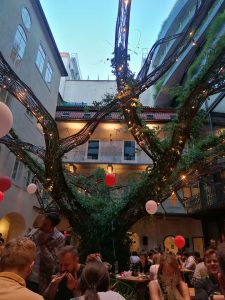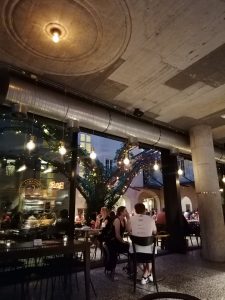 V zahradě Slovanského domu, Na Příkopě 859/22, Praha 1
Je to má oblíbená vinárna ve vnitrobloku Slovanského domu, kde je krásná atmosféra a ceny naprosto odpovídají kvalitě. Majitelé totiž pečlivě vybírají ta nejlepší vína z oblastí ve Francii, Španělsku, Itálii, Německu i v Čechách. Pořádají různé akce a degustace, ale je tu moc příjemně, i když přijdete jen tak na skleničku.
Jitka přidává tip: Ve stejném vnitrobloku Slovanského domu najdete i Pralinkový Club s velikým výběrem pralinek a čokolády.
Zlatnická 1122, Praha 1
Nenechte se zmást názvem, nejde o kavárnu. Tohle místo kousek od Náměstí Republiky má ty nejlepší burgery v Praze! A když to říkám já, musí to být pravda! Můžete tu vyzkoušet i třeba různě ochucený tatarák. Je to místo pro pravé foodies!
O tatarském bifteku jste se mohli dočíst v našem článku Must Try Foods in the Czech Republic.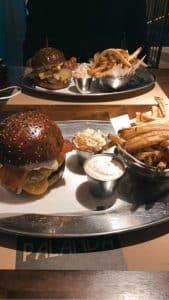 Jindřišská 5, Praha 1
Do tohohle baru u Václaváku chodím ráda, protože tam člověk nemusí "jenom" sedět u piva. To je sice častá česká večerní zábava, ale já mám ráda něco akčnějšího. Proto je super, že si v tomhle baru můžete zahrát spoustu retro arkádových her! Točí tu Plzeň a Únětické pivo, ale zeptejte se obsluhy i na různé denní speciály.
Anna doporučuje:
SatSang
Krymská 439/24, Praha 10
Za mě je to nejlepší místo v Praze s vegetariánským jídlem. A mají happy hour slevu na prosecco! Navíc dělají brunch každý den až do 15:00, což je skvělé, pokud nejste zrovna ranní ptáče. 🙂
Odsud to máte kousek do parku Grébovka, o kterém jsme psali v článku Discover the Best Parks.
Jungmannova 23/11, Praha 1
Za drink si tu sice trochu připlatíte, ale slibuji, že ten zážitek stojí za to! Už u vstupních dveří vás překvapí, že musíte zazvonit a počkat, až budete do baru pozváni mužem v masce Guye Fawkese. Otevřete menu a nenajdete žádné drinky, ale rorschachův test! Váš drink je zkrátka tak trochu překvapení, co vám místní "cvokař" naordinuje. Můžu vás ale ujistit, že testy jsou spolehlivé a váš drink vám bude chutnat zaručeně. Navíc je to za rohem od kanceláře ReloCare, takže to tam máme blízko. 🙂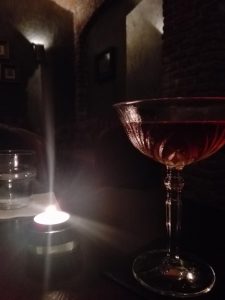 Navštívili jste některé z našich oblíbených míst? Pokud vás zajímají další tipy na místa v Praze, neváhejte nás kontaktovat.