There are plenty of guides to Prague restaurants and bars on the internet. Some are genuine, sometimes they are paid advertisements. We asked members of our ReloCare team what their favourite places in Prague are.
After all, for us, relocating clients also involves an Orientation Day in Prague center. During this, the client is accompanied directly by their relocation agent, so they can be sure they are getting honest information from someone who lives and spends time in Prague.
Kristýna recommends:
L'Osteria
DRN Building, Národní 135/14, 110 00 Prague 1
This Italian restaurant near the National Theatre is probably my favourite place in the centre of Prague. You can feel the atmosphere of a typical Italian osteria. The setting is just beautiful – especially the courtyard! – and they serve the largest pizza you've ever had. I recommend coming in two, because you can't eat it alone!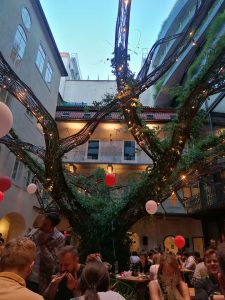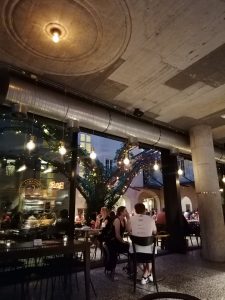 In the garden of the Slavic House, Na Příkopě 859/22, Prague 1
This is my favourite wine bar in the courtyard of Slovanský Dům, where the atmosphere is beautiful and the prices are absolutely adequate to the quality. The owners carefully select the best wines from regions in France, Spain, Italy, Germany and also the Czech Republic. They hold various events and tastings, but it's very pleasant even if you just come for a drink.
Jitka adds a tip: In the same courtyard of Slovanský Dům you can also find the Praline Club with a great selection of pralines and chocolates.
Zlatnická 1122, Prague 1
Don't let the name fool you, it's not a coffee lounge. This place not far from Náměstí Republiky has the best burgers in Prague! And if I say so, it must be true! You can also try the variously flavoured tartare. It's a place for real foodies!
You could read about the steak tartare in our article Must Try Foods in the Czech Republic.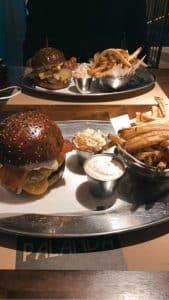 Jindřišská 5, Prague 1
I like going to this bar near Wenceslas Square because you don't have to "just" sit there with a beer. This is a common Czech evening entertainment, but I like something more action-packed. That's why it's great that you can play a lot of retro arcade games in this bar! They have Pilsner and Únětice beer on tap, but ask the staff about the various daily specials as well.
Anna recommends:
SatSang
Krymská 439/24, Prague 10
For me this is the best place in Prague with vegetarian food. And they have a happy hour discount on prosecco! Plus they do brunch every day until 3pm, which is great if you're not exactly an early bird. 🙂
It's a short walk from here to Grébovka Park, which we wrote about in our article Discover the Best Parks.
Jungmannova 23/11, Prague 1
You'll pay a little extra for a drink here, but I promise the experience is worth it! You will be surprised at the entrance door that you have to ring the bell and wait to be invited into the bar by a man in a Guy Fawkes mask. Open the menu and you'll find no drinks, but a rorschach test! Basically, your drink is a bit of a surprise as to what the local "shrink" will prescribe to you. But I can assure you that the tests are quite reliable and your drink is guaranteed to taste good. Plus, it's around the corner from the ReloCare office, so we're close to it. 🙂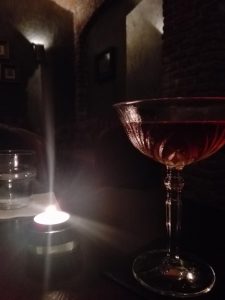 Have you visited any of our favorite places? If you're interested in more tips for places in Prague, don't hesitate to contact us.