Do you need to officially duplicate a document or have your signature verified? Here is a brief guide on how you can easily do that without speaking Czech!
What is Czech Point?
Czech Point is a branch of the Czech Ministry of Interior that allows certain authorities such as Czech Post, notaries and other legal entities to verify signatures or documents and issue certain official documents such as Criminal Record or an official extract from the business registry.
You can determine whether a certain Czech Post office offers Czech Point services by spotting this blue mark on the entrance door. 
Not all service windows at the Post office are offering Czech Point and you shall check before queuing which window holds the Czech Point logo.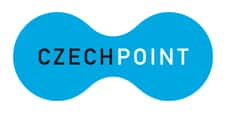 Documents Verification
What for? When authorities require a duplicate of a document or when you do not wish to submit an original, verification of a document can be a proper solution. Verified duplicate has the same status as the original. 
What to bring with you? Make sure the document you wish to verify is an original hard copy.
In Czech ask for: Úředně ověřená kopie dokumentu
Signature Verification
What for? Verification of the signature is a process of official confirmation of the authenticity of the signature. This can be required for instance on a Power of Attorney, Confirmation of Accomodation, Sworn statements and such. The verification is done by providing the clerk with your passport or ID card and signing the document in front of them. 
Note that signature must be in Latin letters! 
What to bring with you? Beside the document to sign on make sure to bring a passport or other identification card. You must sign the document in front of the official; do not sign the document before. 
In Czech ask for:  Úředně ověřený podpis
TIP: Note that some Post offices may not allow duplicate documents or verify your signature on a document that is not in Czech language. Visit the Municipality or a notary office directly if your document is in a foreign language.
Good to Know:
The verification will be confirmed in the verification book which the clerk will fill in and you will have to sign. 

The officials may request that you will stay at the waiting room while they prepare the documents registry. 

Some Post Offices and Notaries have a queue management system. You can identify the logo of the Czech Point as one of the service options on the standing machine and click on it to receive a service number.
How much verification costs?
At the Czech Point: CZK 30 per page

Notary: CZK 40–50 per page